Stylish Font Generator - ℭ𝔬𝔬𝔩 Text and Fonts
Stylish Font Generator online - ℭ𝔬𝔬𝔩 Fancy Text and Fonts with Symbols, Emojis ✅ and Letters.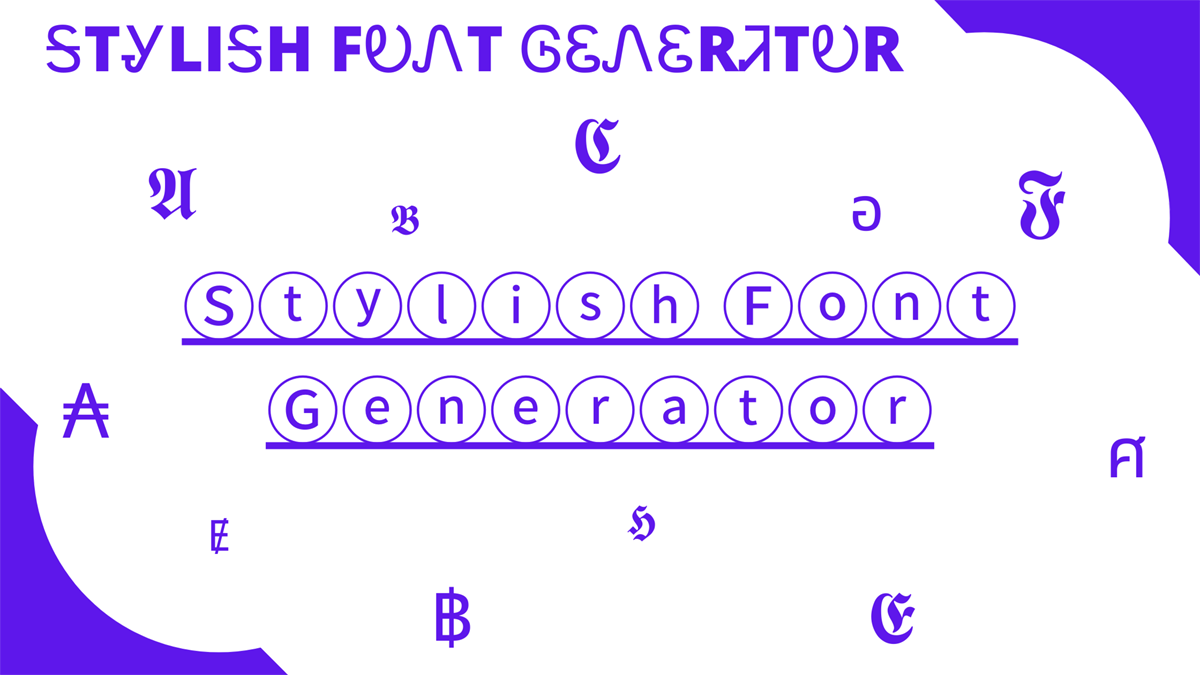 It is a font generator tool that allows you to create stylish text and you can add these texts to your social profiles (Instagram, Facebook, Whatsapp, Tumblr, Twitter, etc.). This is a completely free tool for the whole world. It is very user friendly and with a simple function, here you can copy and paste fonts with one click. Here we have used 100 plus different text styles and these will increase in the future.
How to Use?
It is a simple and user-friendly tool that does not require any special skills to use, anyone can use it very easily. Follow the steps below...
After coming to this tool, you need to type regular text in the input field.
Below you will find many different types of stylish fonts.
Now, if you click on the stylish text of your choice, the font will be copied.
Then you can use it anywhere.
How to make?
This is a font changer tool where you can get the stylish text by inputting regular text. And here you usually get a lot of functions like copy and paste, share, responsive design, attractive look, etc.
This tool is mainly used for designing and programming in four languages such as HTML, CSS, JavaScript, and PHP. Unicode Characters, ASCII letters, Symbols, Emojis, etc. have also been used to create this tool.
Where to use?
This is not for use in any specific place. You can use these stylish texts wherever you want. Usually, we use these fonts in places like Instagram Bio, Twitter Tweets, WhatsApp Status, Facebook Status, PUBG Names, Free Fire names, Fortnite names etc.
Generate Stylish Text with Copy and paste
Nowadays everyone wants to work fast and one such function given in this stylish text generator tool is a one-click copy and paste. Here you can copy the fonts of your choice with one click and paste it in the place you want.
Name of the Texts
MEDIEVAL
CURSIVE
SCRIPTIFY
DOUBLE STRUCK
ITALIC
BOLD ITALIC
MONO SPACE
LUNITOOLS BUBBLES
INVERTED SQUARES
WIDETEXT
TINY
FLIP
SQUARES
MIRROR
SUB SCRIPT
SUPER SCRIPT
BENT TEXT
STRIKE THROUGH
SLASH THROUGH
UNDERLINE
CREEPIFY
GREEK
BIO Generator
These days we all have to write biographies on social platforms but we want my bio to be different and interesting from everyone else. If you are in the right place, with this tool you can generate cool bios and make your profile more attractive.
Stylish Text and Name Converter
Many times when we design our name or brand name in Photoshop or any photo editor software we do not find good design, texts but now there is no reason to worry, you can create design fonts for your name with this tool.
You can easily convert regular text to stylish text with the stylish font generator tool. Here you will find some special types of text such as Japanese, Chinese, Cross, Box, Rounded, Italic, etc.