Fonts For Tumblr 【Copy & Paste】 Text 💯 % FREE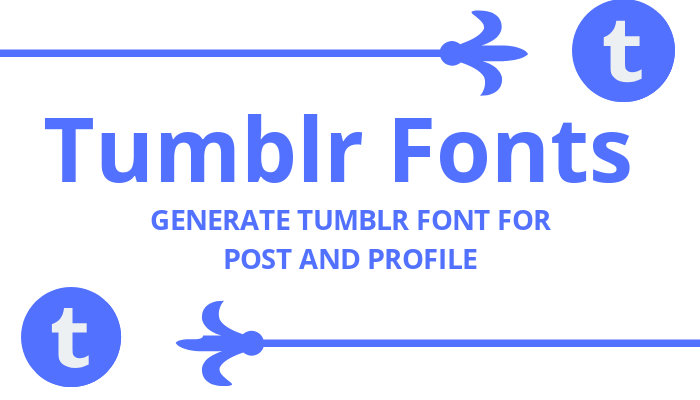 What is Tumblr?
Tumblr is a simple and free blogging platform. Anyone can create their blog here with just a few steps. Tumblr is much easier to use than other platforms. Here users can share photos, stories, videos, mp3, texts, etc. on their blog.
With this platform, you can further enhance your writing skills or blogging skills. Not only that, here you can read other people's blogs, blog posts will show in your feed according to your interests. Also, if you follow a blog, it will give you all the updates of that blog.
What is Tumblr Fonts?
Tumblr fonts are some of the stylish, cute, aesthetic, list of fonts that we use in Tumblr posts, profiles, etc. These are Unicode based fonts that support today's advanced browsers. Fonts for Tumblr is a FREE tool that anyone in the world can use. Especially when we write a post we need these fonts.
How to use Tumblr Fonts Generator?
Fonts for Tumblr is a 100% free tool that anyone can use very easily, no special skills are required to use this tool.
When you first come to this website, you will see an input box.
Now type or paste in that input box.
This will create different styles of text below.
Copy and paste the font of your choice with one click.
Why use Tumblr fonts?
We use these fonts to make Tumblr's blog posts attractive and eye-catching. Because we have to take the help of these texts to differentiate and engage the posts from the posts of others.
Aesthetic and Cute Fonts
This tool has 100 plus text styles which are unique like Aesthetic, Cute etc. Below are some styles.
ᗪEᗰO TE᙭T
(っ◔◡◔)っ ♥ Demo Text ♥
D̲̅ë̤m̤̈ö̤ ẗ̤ë̤ẍ̤ẗ̤
💜 ∂𝔼mỖ 𝐓𝒆𝐗ţ ♣💞
Ꭰҽʍօ Ͳҽ×է
𝔻𝕖𝕞𝕠 𝕋𝕖𝕩𝕥
Ԁє៣๏ tєжt
Dͦeͦmͦoͦ Tͦeͦxͦtͦ
How to Make This Type of Tool?
Making this kind of tool is not an easy task, special skills are required to make this tool. You must have advanced knowledge of its programming language. In particular, you need to have knowledge of HTML, CSS, JavaScript, and PHP.
You also need to know how to use Unicode to create this tool. Unicode is the main part of this tool.
Tumblr Fonts Copy and Paste
For the convenience of the users, many tools have been provided in this tool such as GO TOP button, one click copy and paste, mobile friendly etc. This tool will be improved in the future.